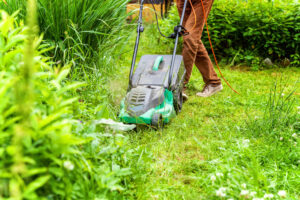 Even if you took good care of your yard during the wintertime, you will still have to do some cleanup once spring comes around. Chances are that after the snow melts, you'll notice there is much work to be done. But what do you tackle first? Here's where you can start:
Pick up debris
Underneath that layer of pristine, white snow is quite a mess. Litter, dead leaves, dead grass, and more are hidden during the winter months, but are left exposed once the snow melts. As such, the first thing you should do once spring rolls around is to clean up any debris that has accumulated over the past several months.
Prune dead or damaged branches
Winter is a harsh season, and you may find that some of your bushes or trees struggled to survive. The result? Dead or damaged branches. These can be a real eyesore, so be sure to prune these away as soon as you can.
Prepare your planting beds
Early spring is the best time to plant trees, shrubs, and perennials. But they need the right conditions. Once you've cleaned your lawn of debris, add some compost and fertilizer to prepare the beds for plants. You can also use this opportunity to create new planting beds. You can follow this guide on planting new beds here.
Prevent crabgrass and pests
Spring is also a good time to be proactive when it comes to crabgrass and pests. Crabgrass seeds germinate in 55 to 60-degree temperatures—the exact temperatures you'll be experiencing in early spring. Pests begin to rear their ugly heads around this time, too. Herbicides and pesticides are often the most effective at preventing crabgrass and pests, but there are natural remedies as well.
Cleaning up your yard after the winter season can be a chore. Thankfully, we at Ryback Landscaping can help. Give us a call today to learn how we can help you with your spring yard cleanup.