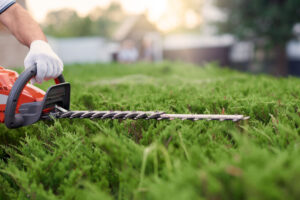 Keeping your shrubs and bushes in good condition should be a top priority this spring and summer. Spring landscaping is a good way to get your yard ready and looking clean for the summer season. If you want to have healthy shrubs for a long time, it's important to stay on top of the pruning and trimming task.
At Ryback Landscaping, you won't have to worry about your shrubs getting overgrown and un-appealing. We have the ability to deliver you pruning and trimming services that will keep your shrubs healthy and looking nice this season.
The Benefits of Pruning & Trimming Shrubs
This time of the year is the perfect time to get your shrubs trimmed and pruned because they are still dormant from the winter. You'll want them to be pruned before the warmer weather comes to encourage healthy growth during the warmer months.
Benefits:
Removes Dead Branches
Eliminates Overgrowth
Allows Room for New Growth
Improves Long-Term Health
Keeps Property looking Nice
Overgrown Shrubs and Bushes Can Be Home to Infestation & Disease
If you don't take care of your shrubs yearly, or even during the warmer months, the overgrown vegetation can be susceptible to nesting of insects, animals, and unwanted diseases, especially if there are dead parts. You never want your shrubs to experience this because if they're close to your home, these problems can reach your house causing more damages to occur.
Letting your shrubs grow without trimming them back for a healthy life can put a dent in your wallet down the road. These damages and headaches can be avoided by a little landscaping maintenance from us. Our shrub pruning and trimming services can be set up on a weekly basis, or we can come in the early spring season before the weather turns warmer.
Contact Ryback Landscaping at 908-574-5650 today or visit us online for more information!