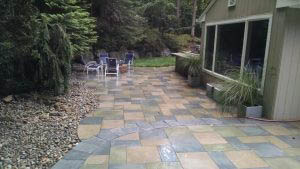 Decks you are limited to wood or composite wood. With real wood your staining or sealing every 2-3 years pending how much direct sun you get. Railings are a must and your limited to wood, composite wood or vinyl. Oh and those ugly steps nothing nice about those.
Now a patio you have a 1,000 different choices. Drylaid modular block, a wet laid natural stacked stone or a cinder block walls with stone facades. The surfaces can be anything from concrete to pavers even A natural Bluestone surface.
How about that outdoor kitchen or maybe a pizza oven. That beautiful stone fireplace or firepit to sit around a toast marshmellows. You can do courtyard style sitting walls or maybe a cozy corner built in couch. You can do multiple levels with stone piers with lanterns even led undercap lighting. So which one should you chose, i think the decision is now a little clearer.