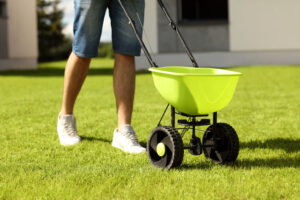 Of course, it's only February, but it's never too early to start thinking about your lawn care routine for the spring season. Homeowners usually start their landscaping and lawn care tasks in the late spring when the ground gets a little dryer. When planning your lawn care routine for the spring, remember that fertilizing plays a big role, especially if you're looking to make your lawn healthier and greener.
Here are some spring fertilizing tips for this next season:
When to Start Fertilizing?
Early Springtime is the best time to start feeding your lawn. One thing to remember is to make sure that your lawn has gotten a good rainfall a few days before you feed your lawn. If you're looking for to have a beautiful, green and lush lawn for the summertime, early spring is the time to start feeding.
Proper Irrigation
When caring for your lawn in the spring season and further into the summer, it's important to remember that irrigation is crucial for a lawn's health. Rainfall is usually plentiful in the spring, so you won't have to worry too much, but once summer comes around, the dry season can settle in. Having a scheduled timer on your lawn irrigation system is very beneficial.
If you water your lawn manually, set up sprinklers on your lawn and turn them on manually every other day if you haven't gotten too much rainfall. If it rains a certain day, you won't have to worry about your lawn getting a drink.
Grass Cutting
When cutting your grass during the warmer months, many homeowners like to remove grass clippings after they are done with mowing. Obviously, they don't look great when they're out on the lawn, but in reality, it's much better to leave them on the lawn after cutting. Grass clippings can provide up to 25 percent of your lawn's fertilizer needs, saving you time and money. One hundred pounds of lawn clippings can yield up to three to four pounds of nitrogen.
If you're in need of lawn care services for the spring and summer seasons, contact Ryback Landscaping LLC. at 908-574-5650 today or visit us online for more information!